Oven Fried Chicken
Header Image: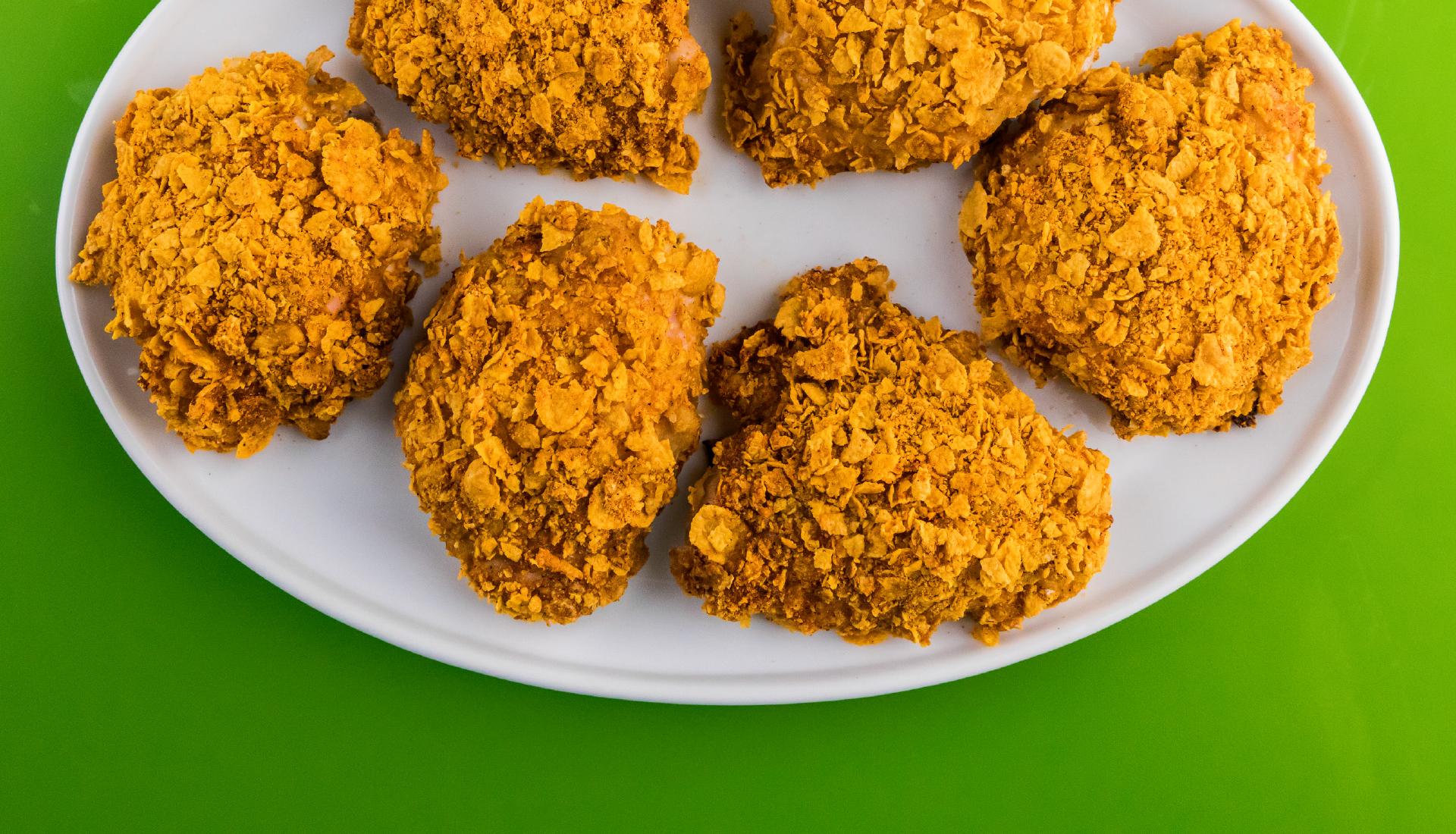 Ingredients
---
Vegetable cooking spray
3 cups cornflake cereal
⅓ cup grated Parmesan cheese½ teaspoon cayenne pepper
¼ teaspoon black pepper
1 tablespoon garlic powder
1 tablespoon onion powder
1 teaspoon paprika
1 teaspoon chili powder
½ cup flour
¾ cup low-fat buttermilk
6 chicken thighs
 
Directions
---
Pre-heat oven to 375°F.
Wash your hands well with soap and hot water.
Line a baking pan with aluminum foil and coat with cooking spray.
Place cereal in large plastic storage bag and seal bag. Roll a can across the sealed
bag to crush cereal.
Place Parmesan cheese and all spices in a large bowl with crushed cereal. Stir to combine.
Measure out flour into a small mixing bowl.
Pour buttermilk into a small mixing bowl.
Dip thighs into flour, turning to coat.
Move chicken from flour to the buttermilk, turning to coat the chicken. Place the chicken in the bowl containing cheese, crushed cereal, and spices.
Press the crumb mixture on both sides to coat the chicken.
Place chicken on the baking pan.
Repeat steps 8-11 with the remaining chicken.
Sprinkle remaining cornflake mixture evenly over chicken.
Wash hands well with soap and hot water after handling raw chicken.
Place chicken in the oven and cook for 50 minutes.
Check the temperature of the chicken using a meat thermometer. Make sure it is fully cooked. It should be 165°F.
Serve immediately.
Refrigerate leftovers within 2 hours.